Emergency Food Fund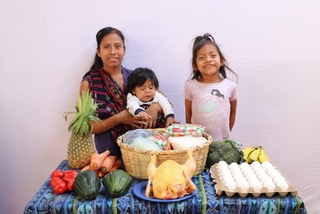 Critical need for food! Covid 19 is having a huge economic impact globally. Here in Guatemala the impact is going to be devastating for the Indigenous Maya communities that we serve. I am currently in Panajachel and can already see the impact on the streets and how it will trickle down to our most vulnerable families.
Tourism is the major source of income for the Maya either directly or indirectly. The money they earn each day pays for that day's food. Guatemala is on lockdown and the streets are empty of tourist and vendors; restaurants and hotels are either closed or offering limited service; and transportation has been shut down.
No work; no money; no food!
Many of our families are already malnourished. The situation here will become very critical in a very short time. If you can possibly donate food to your sponsored child or elder or to the Emergency Food Fund to help those not sponsored, it would be the greatest gift.
Because of Covid 19 the preschools and elderly care center have been closed. FundaMaya staff are putting food packages together for the families of the preschool children to pick up weekly. At the elderly care center in San Jorge, FundaMaya is making food available for the elders to pick up daily. Delivery will be made to the elderly who cannot come in. Donated food for your families will be available for pick up.
Please consider sending food to your sponsored student or elder or to the Emergency Food Fund.


FOOD COSTS
A food basket is $60 Canadian. A 100 lb. bag of corn is $67 Canadian. This will give an average family enough tortillas 3 x a day for nearly a month. 25 lb. bag of rice is $27 Canadian. 25lb. bag of black beans is $39 Canadian.


Any amount will help. Thank you for caring.
Lois B. Reimer,
Board Director
FundaMaya Canada