A Family Visit in El Porvenir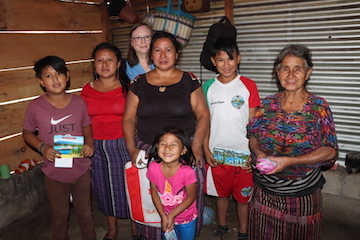 Beautiful Guatemala has much to offer from beautiful scenery, the vibrant colours of traditional clothing and handicrafts, the Maya culture, and the charm of its people.
When you look behind all this and witness the needs of many Maya, it is not difficult to feel totally overwhelmed and ineffective. How can FundaMaya Canada possibly help to make a dent in this? Yet we do, poco a poco, thanks to our donors and sponsors.
My first visit was to Josefa and her family of four children and her mother. They have two rooms, one of which is a kitchen. It is not like our kitchens. There is a small table and a few pots and pans. There is no door, no windows, no flooring, and no refrigerator. They have a solar panel providing light from one bulb. The stove is an open fire outside and the smoke from it fills the kitchen and the second room. It is hard to breath in here.
Traditional clothing has patterns and colours specific to where an individual lives. This family only has used clothing, none of it traditional to them. The grandmother wears a huipil (blouse) and corte (skirt) from two different areas. All their clothing is very worn, and they cannot afford to replace them.
The stories of their struggles and momentous need are hard to listen to; yet they tell them interspersed with hope and smiles. Josefa is a single mother earning $27 CAD per week washing clothes. Her earnings are not always consistent and are never sufficient for all the household expenses. There are days where there is no food. Their sponsor provides monthly food support, and they extend it by eating small portions once or twice a day and making it last 15 days.
Their sponsor has also given them hope by providing sponsorship for all four children to go to school. Having an education will give them an opportunity for a better future - not only for themselves, but also for their family and the community. Education is key to escaping the grinding poverty.
Any help you can provide is greatly appreciated. For more information regarding sponsorship, food support, emergency medical, and more, please contact me at
lois@fundamayacanada.ca.
We'd love to have you join us in making a difference poco a poco.